Delicate French Omelet
What makes this French omelet recipe so different from its American omelet counterpart? It's all about going easy on the filling ingredients, and no browning of the eggs whatsoever. The process is a lot easier than you think and it tastes delicious!
A traditional French omelet is filled with a few sprinkles of good cheese and chopped herbs—however take the liberty to experiment with any ingredients you like.
The method of shaking and stirring this recipe at the same time may seem daunting, but it's a natural motion and you'll find it quite simple. If you're still feeling a bit timid about this method, simply use a lower heat setting then let the omelet come together slowly, so you don't have to shake and stir so vigorously.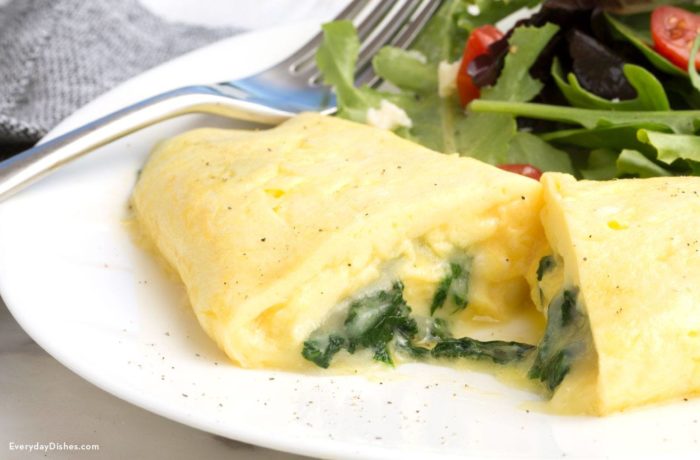 French omelet recipe
French omelets are more delicate than filled-to-the-brim American omelets. This French omelet recipe is a healthy choice—it's quick and tastes great!
Ingredients
Yield: 1 omelet
Instructions
Collect components for omelet then place within arm's reach. Once the process begins, it will go fast! When everything, including your choice of fillings, are prepped and ready to cook, set an 8" non-stick skillet over medium heat then allow pan to come to temperature.

Crack 3 eggs into a medium-sized mixing bowl. Season with a pinch of salt and pepper then beat eggs using a fork or whisk until the egg whites and yolks are completely combined and mixture is a uniform, pale yellow.

Add 2 tsp of butter to skillet then let melt slightly before pouring in well-beaten eggs. Immediately begin shaking pan gently back and forth with one hand while stirring vigorously using a rubber spatula with the other. The objective is to make the smallest curds of scrambled eggs possible. Continue shaking and stirring just barely until the eggs are no longer runny, then smooth the curds into an even layer in the bottom of the skillet. This should only take 30–90 seconds. You should have a slight bit of runny egg, but not too much.

Remove skillet from heat then add shredded cheese. Place any fillings you desire into the center of the omelet. Don't overdo it, about ¼ cup of select ingredients will fill these delicate omelets nicely.

With a rubber spatula, begin folding the omelet onto itself, as if you were rolling it into a tube. Continue rolling up the omelet until it is completely rolled, then reverse your grip on the skillet handle so that you're holding it 'underhanded.' Tilt the skillet up and gently roll omelet out of the skillet, onto a serving plate.

Top omelet as desired and serve nice and hot.
Notes
Top omelet with anything your heart desires, but I just love a small sprinkle of cheese and fresh herbs—delish!
Calories: 321kcal, Carbohydrates: 2g, Protein: 25g, Fat: 23g, Saturated Fat: 9g, Polyunsaturated Fat: 2g, Monounsaturated Fat: 8g, Cholesterol: 660mg, Sodium: 635mg, Potassium: 254mg, Sugar: 2g