Oatmeal cereal recipe
If you like granola, you're going to love this oatmeal cereal recipe. Deliciously sweet honey and crunchy, slivered almonds give old-fashioned oats a chewy texture that makes breakfast a real treat.
Make sure to use old-fashioned oats, not instant or quick cooking oats. If you do, the texture won't be chewy, and that's the best part of this dish! It takes about 10 minutes to cook, which is longer than instant, but it's definitely worth the few extra minutes.
Once you've had a chance to enjoy the awesome texture, double or triple the recipe for the rest of the family—simply adjust the cooking time until the cereal has reached the desired consistency.
Feel free to add dried fruit, fresh berries or a little steamed milk to make this better than oatmeal—and an even healthier way to start your day.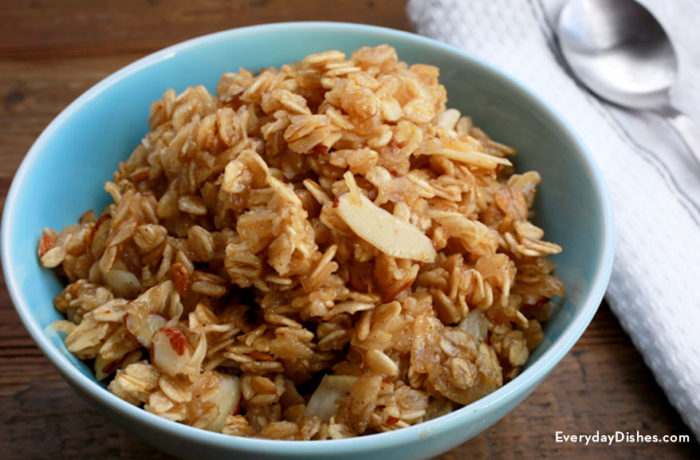 Hearty oatmeal cereal recipe
Forget mushy oatmeal! Honey, oats and almonds give this hearty oatmeal cereal recipe a chewy texture that's better than ordinary oatmeal!
Ingredients
Yield: 2 - 3 servings
2 Tbsp unsalted butter
1 1/4 cups water
1/2 cup honey
1 pinch kosher salt
2 cups old-fashioned oats, not instant or quick cooking
1/2 tsp cinnamon
1/4 cup sliced almonds
Instructions
Place a medium-sized skillet over medium heat and add butter, water, honey and salt. Bring the mixture to a boil, stirring to dissolve the honey and salt.

When the mixture comes to a bubble, stir in the oatmeal and cinnamon. Reduce heat to low, cover and simmer for about 10 minutes, stirring halfway through. (If your skillet doesn't have a lid, carefully cover the pan with aluminum foil.)

Remove the lid, stir in sliced almonds then remove from heat. Serve nice and warm. Enjoy!
Notes
Be sure to use old-fashioned oats, not instant or quick cooking, to get that wonderful chewy texture!
Calories: 443kcal, Carbohydrates: 73g, Protein: 3g, Fat: 19g, Saturated Fat: 8g, Polyunsaturated Fat: 2g, Monounsaturated Fat: 8g, Cholesterol: 31mg, Sodium: 149mg, Potassium: 158mg, Fiber: 2g, Sugar: 70g