Sweet and sour refrigerator pickles
All hands in the pickle jar when it comes to these sweet and sour refrigerator pickles! Salt, rinse then soak sliced cucumbers and onion in a delicately seasoned brine of white and apple cider vinegar and sugar. If you can wait several hours while it rests in the fridge, you'll enjoy a special treat on your next sandwich.
This recipe is easy but here are a few tips. First, use non-reactive cookware, such as stainless steel, enamel-coated pots or glass—use aluminum or copper and you may end up with a metallic flavored disaster!
Cool the brine to room temperature before adding it to the veggies. If it's too hot, the veggies may lose their beautiful green color or become slightly brown. It'll taste great but won't look as appetizing.
After you've scarfed down the pickles, you can re-use the brine one more time! Just remake the veggie mixture as before and add to the brine with a little more chopped dill. It's like having a 2-for-1 condiment!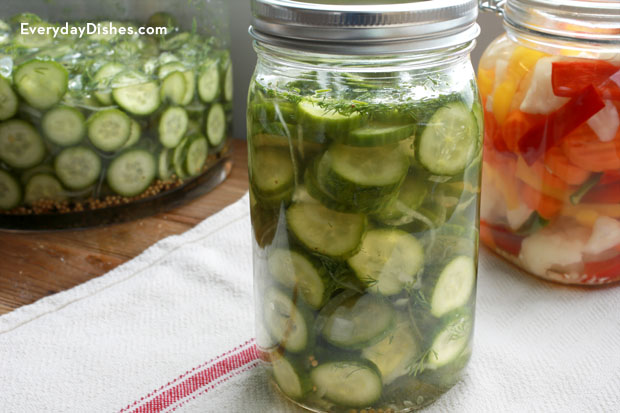 sweet and sour refrigerator pickles recipe
Yummy sweet and sour refrigerator pickles are easy to make and worth the wait. Just soak sliced, salted cucumbers and onion in brine overnight.
Ingredients
brine
1 1/2 cups white vinegar, distilled
1/2 cup apple cider vinegar
4 cups water
1 1/2 cups granulated sugar
3 Tbsp kosher salt
1 tsp celery seed
1 tsp black peppercorns
1 Tbsp yellow mustard seed
1 bay leaf
pickles
3 lbs small cucumbers, such as Persian or pickling cucumbers
1 small yellow onion
2 Tbsp kosher salt
3 Tbsp baby dill, fresh, chopped
Instructions
Place all ingredients for the brine into a medium-sized non-reactive saucepan such as stainless steel, enameled, or glass—not aluminum or copper. Bring to a boil over high heat, stirring constantly until the sugar has completely dissolved. Once the brine reaches a full rolling boil, remove the pan from the heat, then set it aside to reach room temperature.

While you are waiting for the brine to cool, prepare the vegetables. First, trim the ends from the cucumbers and discard. Slice the unpeeled cucumbers about ¼" (or slightly thinner) then add them to a large colander. Next, remove the ends from the onion, peel and cut it into quarters. Shave each quarter into paper-thin slices and add them to the colander with the cucumber slices.

Sprinkle 2 Tbsp of kosher salt evenly over the cucumbers and onions then toss until the salt has completely coated the vegetables. Place the colander in the sink to drain any water the salt may draw out. Allow the salt to remain on the vegetables for 30–45 minutes.

Rinse the cucumbers and onions under cold water to remove all excess salt then drain completely. Place the cucumber and onion mixture into a large mixing bowl, pour the room temperature brine over it and remove the bay leaves—if you'd like, you can strain all of the spices from the brine before adding it to the cucumbers.

Add the chopped dill and stir to distribute everything evenly. Cover and refrigerate for at least 4 hours but they're even better if they sit overnight!
Notes
Use Persian cucumbers—they're seedless and slightly sweet. When it comes to slicing them quickly and uniformly, a mandolin is your go-to tool. If you don't have one, try making cuts the same size with a sharp knife.
Calories: 1352kcal, Carbohydrates: 313g, Protein: 4g, Fat: 6g, Saturated Fat: 1g, Polyunsaturated Fat: 1g, Monounsaturated Fat: 3g, Sodium: 34954mg, Potassium: 378mg, Fiber: 4g, Sugar: 304g, Vitamin A: 36IU, Vitamin C: 6mg, Calcium: 185mg, Iron: 3mg