Low Carb Gluten Free Bagels by A Healthy Hint
Meet our friends at A Healthy Hint! Amanda and Christina are on a mission to turn their favorite foods into clean, healthy meals – and to look good while doing it!
While working on their individual health and wellness journeys, these two food lovers decided to team up and analyze the source of a recipe: the ingredients. Now, they're sharing some healthy hints for improving your previous "guilty pleasures" like peanut butter chocolate chip cookies, buffalo chicken dip, chai tea lattes and, of course, everything bagels!
This post may include links to purchase items from our affiliates.
"WE GET IT. Breakfast is the most wonderful part of the day. We are constantly looking for new, delicious breakfast options while ensuring we start our days off in a healthy way. We travel to New York regularly for work and felt inspired to make our own bagel recipe to have a taste of NYC at home.

These low carb, gluten free bagels will become a staple to your breakfast menus. AND they are protein packed. And look cute on Instagram. And are delicious. What more could you ask for?"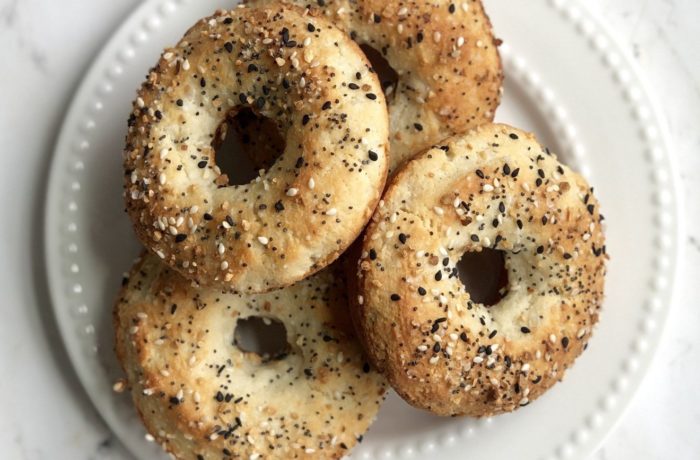 Low Carb Gluten Free Bagel Recipe
Low carb gluten free bagels by our friends at A Healthy Hint are a new, delicious breakfast options that ensures we start our days in a healthy way.
Ingredients
Yield: 4 servings
Instructions
Preheat oven to 400F. Place parchment paper or a silpat on a baking sheet. If using parchment paper, spray with oil to avoid sticking. If you have a donut pan, spray with nonstick cooking spray.

In a small bowl, whisk one egg white until frothy (about 2-3 minutes), fold in Greek yogurt until fully combined.

In a medium bowl combine the almond flour, coconut flour, baking powder and salt and whisk well. Add the yogurt and egg white mixture and mix with a fork or spatula until well combined.

Lightly dust a parchment lined work surface with coconut or almond flour and remove dough from the bowl, knead the dough a few times until dough is tacky, but not sticky, about 15 turns. If it seems to be too sticky, add more coconut or almond flour.

Divide into 4 equal balls. Poke a hole in the center of each ball and then stretch it slightly to make form the dough into a bagel. Place bagels on prepared baking sheet or in donut pan molds.

Top each bagel with egg white wash and sprinkle with seasoning of your choice. Bake for 15-20 minutes or until golden brown. Let cool at least 15 minutes before cutting. Keep bagels refrigerated
Notes
Thank you to our friends at A Healthy Hint for sharing this awesome recipe with us! Show us how you top your bagels my using #MyEverydayDish on social media.
Calories: 300kcal, Carbohydrates: 10g, Protein: 13.1g, Fat: 23g, Saturated Fat: 1.9g, Cholesterol: 0.9mg, Sodium: 399mg, Fiber: 5.6g, Sugar: 2.5g