Chewy Gluten-Free Chocolate Cookies with Pecans
More and more of us are headed towards gluten-free food these days and it's not always easy to find great tasting recipes, especially for baked goods. Here at Everyday Dishes, we've come up with a recipe for chewy gluten-free chocolate cookies that has the texture and flavor others have been missing.
Gluten tends to give sweet recipes the chewy texture we all love. Without it, recipes can be gritty and dense. We think we've got the problem licked by mixing gluten-free flour mix and almond meal/flour together.
Almond flour is much more moist than other wheat alternatives, high in protein and low in carbs and sugars. It's great for baking but can also be used as bread crusts for dishes requiring a savory taste.
Add chia seeds to the flour mixture for another good source of protein, fiber and Omega-3 fatty acids. If you're going to eat chocolate cookies, you may as well choose those that are healthier for you!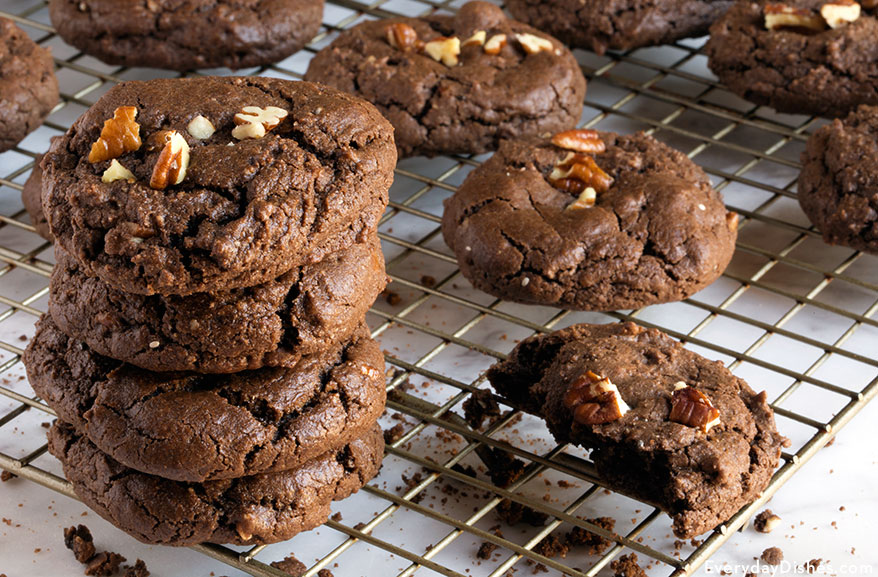 Chewy Gluten-Free Chocolate Cookies with Pecans Recipe
Ingredients
Yield: 36 cookies
2 1/2 cups King Arthur gluten free flour
1/2 cup almond meal, or flour
1 tsp ground chia seeds
1 cup cocoa powder
1 1/2 tsp baking soda
1 1/2 tsp baking powder
1 1/2 tsp salt
3/4 cup unsalted butter, room temperature
1 cup brown sugar
1 cup granulated sugar
3 large eggs
1 tsp vanilla extract
3/4 cup pecans, chopped and divided
Instructions
Preheat oven to 350 degrees.

Add flour, chia seed, almond flour, cocoa, baking soda, baking powder and salt in a large mixing bowl then whisk until completely incorporated and set aside.

Cream butter and both sugars until light and fluffy. Add eggs and vanilla and combine completely.

Combine wet and dry ingredients then fold in 1/2 cup chopped pecans. Mix until thoroughly combined (batter will be thick). Form batter into balls about the size of a ping pong ball. Place on parchment lined baking sheet approximately 3" apart (do not flatten balls). Sprinkle tops of dough with a few pecan pieces then bake 9−11 minutes.

Allow to cool on baking sheet for 2 minutes before moving to cooling rack. Sprinkle with granulated sugar and enjoy!
Notes
Gluten-free flours should be stored in the fridge or freezer for ultimate freshness.
Calories: 119kcal, Carbohydrates: 17g, Protein: 2g, Fat: 5g, Saturated Fat: 3g, Polyunsaturated Fat: 0.2g, Monounsaturated Fat: 1g, Cholesterol: 28mg, Sodium: 178mg, Potassium: 68mg, Fiber: 1g, Sugar: 10g