Oatmeal Apple Breakfast Bake
Give breakfast a lift with our delicious oatmeal breakfast apple bake recipe. Serve it warm or at room temperature, it's wonderfully sweet and moderately tart—perfect for the holidays, special occasions or 'just because.'
We used Granny Smith apples for their crisp, acidic and sharp taste. And we don't mind that they have a nice shelf life, either! With a little lemon juice to prevent the apples from turning brown, their tart flavor is complemented with vanilla, cinnamon, and pecans for texture. Yummy!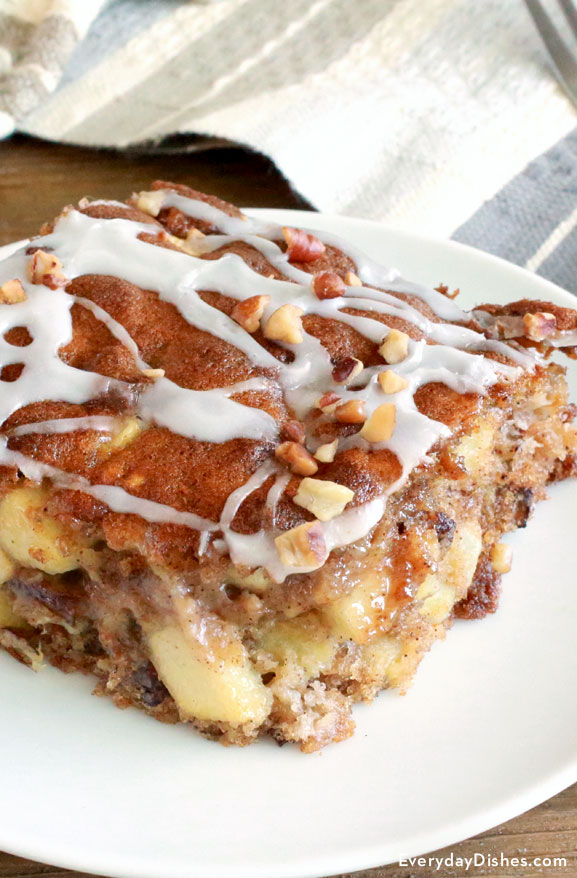 Our oatmeal apple breakfast bake wouldn't be complete without the super simple and tasty frosting drizzled on top. All you need is a little milk and voila, breakfast is served!
Oatmeal Apple Breakfast Bake Recipe
Skip hot oatmeal and have oatmeal cake instead—you don't want to miss this oatmeal apple breakfast bake! It's perfect for the holidays or just because.
Ingredients
Yield: 6 -8 servings
1 Tbsp lemon juice
4 cups Granny Smith apples, peeled and cut into ¼" cubes (about 6–8 apples)
1/2 cup old-fashioned oats
1 cup all-purpose flour
2 tsp baking soda
2 tsp ground cinnamon
1/2 cup unsalted butter
1/2 cup granulated sugar
1/2 tsp pure vanilla extract
1/2 tsp salt
2 large eggs
1/4 cup apple juice, or water
3/4 cup pecans, finely chopped and divided
glaze
3/4 cup powdered sugar
1 Tbsp milk
Instructions
Place rack in the center of the oven and preheat to 375 degrees. Coat a 9" x 13" baking dish with cooking spray then set aside. In a medium-sized mixing bowl, toss the diced apples with lemon juice to prevent browning then set aside.

Place oats in a food processor or blender then pulse until mixture becomes the consistency of coarse cornmeal. Sift flour, baking soda and cinnamon into a small bowl then add the oat flour. Stir to combine then set aside.

In a large mixing bowl or the bowl of a stand mixer, cream butter and sugar together for approximately 4 minutes, until light and fluffy. Scrape down the sides of the bowl then add vanilla and salt. Begin beating and add the eggs one at a time, combining the first egg completely before adding the next.

Add half of the dry ingredients, stir to combine then add apple juice. Mix completely before stirring in remaining dry ingredients. Once batter is completely combined, fold in diced apples and ½ cup of chopped pecans. When the apples and pecans are thoroughly mixed into the batter, transfer mixture to baking dish.

Top with the remaining ¼ cup of pecans, bake 25–30 minutes then remove from the oven and let cool completely. While the cake cools, stir together the powdered sugar and milk for the glaze. Drizzle over the top of cooled cake, slice and serve.
Notes
Omit the pecans if you're not a fan, or try using walnuts instead!
Calories: 561kcal, Carbohydrates: 75g, Protein: 7g, Fat: 28g, Saturated Fat: 11g, Polyunsaturated Fat: 4g, Monounsaturated Fat: 7g, Cholesterol: 111mg, Sodium: 639mg, Potassium: 301mg, Fiber: 6g, Sugar: 49g