You'll be able to chalk one more thing off your list when it comes to holiday cooking. Making deviled eggs for Easter as a classic appetizer can easily be done ahead. It all boils down to timing…literally!
Just grab your timer and follow this recipe on how to boil eggs perfectly and cool them rapidly to prevent getting overcooked. The result? Tender egg whites with no gray edges around the yolks.
Add sweet pickle relish, chives or capers to an extra smooth filling to make it your own special recipe.
Making deviled eggs for Easter is an easy, make-ahead appetizer. Discover the secret to hard-boiling eggs then make a filling that's silky smooth.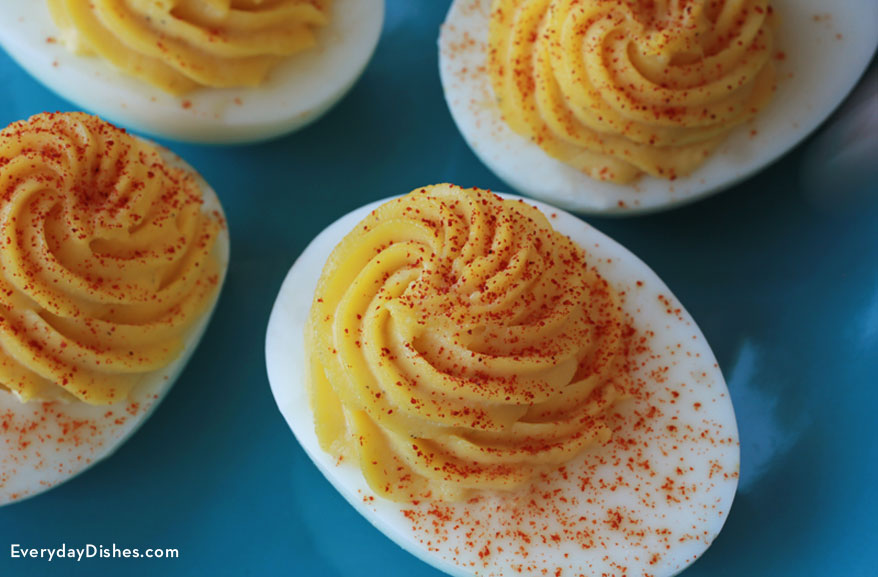 Deviled Eggs for Easter Recipe
what you'll need
1 dozen

large

eggs

1/4

cup

mayonnaise

1

tsp

Dijon mustard

1 1/2

tsp

white wine vinegar

1

tsp

onion

finely grated

salt and pepper

to taste

paprika

for sprinkling
let's do it
Place the eggs into a large pot and add enough water to cover the eggs by at least 1". Set the pot over high heat and bring the water to a rolling boil—you'll know it has reached a full boil when you hear the bubbles popping and the eggs clattering on the bottom of the pot.

Next, set a timer for 2 minutes. After the pot has been at a full boil for 2 minutes, remove it from the heat, set it on a cool part of the stove and reset the timer for 10 minutes.

When the timer goes off, carefully drain the hot water from the pan then cover the eggs with cold water. Allow the eggs to sit in the cold water until they are cool enough to handle then crack the shells and peel them away.

Rinse the peeled eggs under cold water to remove any remaining particles of shell. Cut each hard-boiled egg in half lengthwise, remove the yolks, and put them into a small bowl. Reserve the egg whites for the filling.

Once all of the yolks have been removed, place a fine mesh sieve over a bowl and press the yolks through the sieve with the back of a spoon—this will give you a silky smooth filling for the deviled eggs. Be sure to scrape any remaining yolks from the back of the sieve once you have pressed them all through.

Add the mayonnaise, vinegar and grated onion to the yolks then stir until combined. Season with salt and pepper and spoon or pipe the filling into the reserved egg white halves.

Sprinkle with a little paprika or finely minced chive and watch them disappear!
One Last Thing
Eggs that are older seem to peel easier than fresher eggs, so buy your eggs early and store them in the fridge until you're ready to make this recipe.
Nutrition
Calories:
47
kcal
Carbohydrates:
1
g
Protein:
3
g
Fat:
3
g
Saturated Fat:
1
g
Polyunsaturated Fat:
1
g
Monounsaturated Fat:
1
g
Cholesterol:
107
mg
Sodium:
70
mg
Potassium:
36
mg
Fiber:
0.04
g
Sugar:
0.4
g