Addicting Toffee Chex Mix
Warning: Our sweet and salty toffee Chex mix causes serious snacking addiction. You won't be able to have just one handful. But don't worry, we won't tell on you…promise! It's the perfect snack mix for anyone who likes a perfectly sweet and salty treat! Rice or corn Chex are ideal for this recipe because of their neutral flavor, but really, you could choose any variety that you like—even the whole grain kind.
Serve this up for the holidays or make some homemade teacher gifts. This sweet Chex mix recipe is sure to be a hit all around!
This post may include links to purchase items from our affiliates.
Toffee Chex Mix Recipe Tips:
Use a larger pot than you think you'll need because this stuff bubbles up a lot and you DO NOT want to be scrubbing it off once it's cooked! Trust us!
The toffee will be extremely hot, so be extra careful when pouring it out of the pot.
Make sure you use a heat resistant spoon to stir since the mixture is so hot.
Add your favorite nuts and pretzels to make this mix your own. We tried it with Dot's Pretzels as well and it was delicious!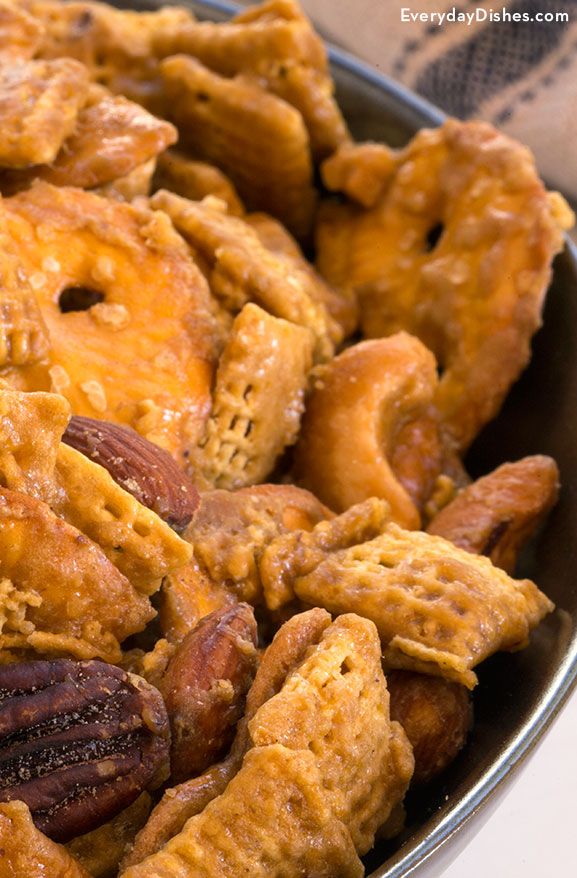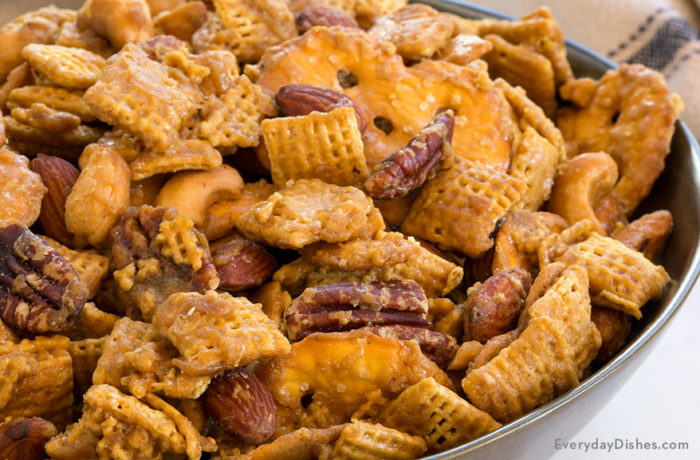 Addicting Toffee Chex Mix Recipe
Sweet, salty and totally addictive, our recipe for toffee Chex mix will become a mainstay in your pantry. It's the perfect snack for kids and adults alike!
Ingredients
Yield: 36 servings
12.8 oz box Rice or Corn Chex Cereal
3 cups assorted nuts, (pecans, almonds, peanuts, etc.)
3 cups pretzel thins, or mini knots
1 cup unsalted butter
2 cups dark brown sugar
3/4 cup light corn syrup
1 tsp salt
2 tsp pure vanilla extract
1 tsp baking soda
Instructions
Place 2 racks as near to the center of the oven as possible and preheat to 250 degrees. Line 2 baking sheets with aluminum foil and spray generously with cooking spray. In a very large mixing bowl, add the entire box of cereal, assorted nuts and pretzels then set aside.

Place a large saucepan over medium heat and melt the butter. (You will need a larger than normal pan because the toffee mixture will expand by 5 times its volume once the soda is added!) When the butter is melted, add the brown sugar, corn syrup and salt. Bring the mixture to a boil, stirring frequently. Allow the mixture to boil for 2 minutes and then remove from the heat.

CAREFULLY stir in vanilla extract, then after that is mixed in, add the baking soda and mix thoroughly. The toffee will foam and bubble furiously, but just keep stirring until the baking soda is completely combined.

Pour the hot toffee over the cereal, nuts and pretzels and gently fold to combine. Be careful not to flip any toffee on yourself or get any on your fingers while stirring. Work from the bottom of the bowl bringing the ingredients up through the toffee to coat. Don't worry about complete and even coverage; just get a relatively even distribution of toffee over the mix.

Divide the mixture between the two prepared baking sheets and spread evenly. Bake 30–55 minutes, stirring every 15 minutes—30 minutes for chewier toffee and 55 minutes for a crispier toffee. You will notice that the toffee will liquefy in the oven, making it easy to get an even coating over the mixture.

Remove from oven and continue stirring and separating the clumps until the mix is cool enough to stay separate. Transfer to a bowl and enjoy!
Notes
This is the perfect snack mix to gift for the holidays when packaged with our super cute food gift tags.
Calories: 295kcal, Carbohydrates: 41g, Protein: 4g, Fat: 13g, Saturated Fat: 4g, Polyunsaturated Fat: 2g, Monounsaturated Fat: 4g, Cholesterol: 13mg, Sodium: 559mg, Potassium: 159mg, Fiber: 3g, Sugar: 14g