Fruit Breakfast Bowl
Enjoy a healthy start to your day with this fruit breakfast bowl! It uses the season's freshest produce for a wholesome and delicious morning meal.
Greek yogurt is thicker, denser and tastes more indulgent than regular yogurt, but you can substitute an equal amount of any yogurt that you prefer.
Berries, peaches, bananas and grapes are at their best in summer, which means they're usually less expensive, too. This recipe makes the best of the season!
You'll love this refreshing and light fruit breakfast bowl.
Enjoy!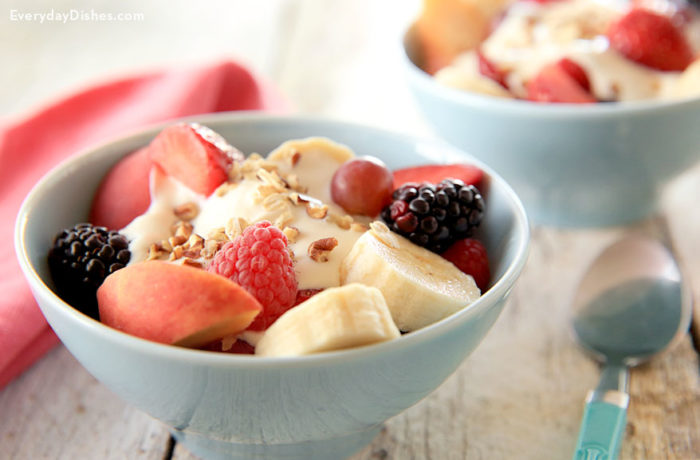 Fruit Breakfast Bowl Recipe
Enjoy a healthy start to your day with this fresh fruit breakfast bowl packed with yogurt and oats!
Ingredients
Yield: 4 servings
2 cups strawberries, hulled and sliced
1 cup raspberries, or blackberries
2 peaches, fresh, ripe
1 banana, ripe, sliced
1 cup red grapes, or green grapes
1 cup vanilla Greek yogurt
1 Tbsp honey
1/4 cup nuts, chopped, such as pecans or almonds
2 Tbsp thick-cut oats
Instructions
Place all fruit into a large bowl and mix until evenly combined. Divide fruit evenly between 4 small bowls or cups and set aside.

Add yogurt and honey into the large bowl and mix until completely combined. Spoon approximately ¼ cup of the yogurt sauce over each bowl of fruit.

Sprinkle with chopped nuts and thick-cut oats and enjoy!
Notes
Choose your favorite summer fruit to make this recipe your own!
Calories: 299kcal, Carbohydrates: 43g, Protein: 12g, Fat: 10g, Saturated Fat: 2g, Polyunsaturated Fat: 3g, Monounsaturated Fat: 4g, Cholesterol: 5mg, Sodium: 78mg, Potassium: 402mg, Fiber: 8g, Sugar: 25g