Fresh Peachy Keen Bars
Our peachy keen bars recipe is a yummy summer treat for a picnic, barbecue or just an everyday dessert! Use your ripe summer peaches to make this delicious dessert while cutting a few corners in the kitchen too—the pastry portion of the recipe doubles as the crust and the crumbly topping!
While the prep time is about 35 minutes, this recipe couldn't be easier to make. Just combine the ingredients and achieve those buff arms you've always wanted giving them a vigorous stir! Layer, bake, cut into squares then you're done!
If you're serving this sweet treat to company and really want to up the ante—serve the peachy keen bars warm with a scoop of French vanilla ice cream on the side.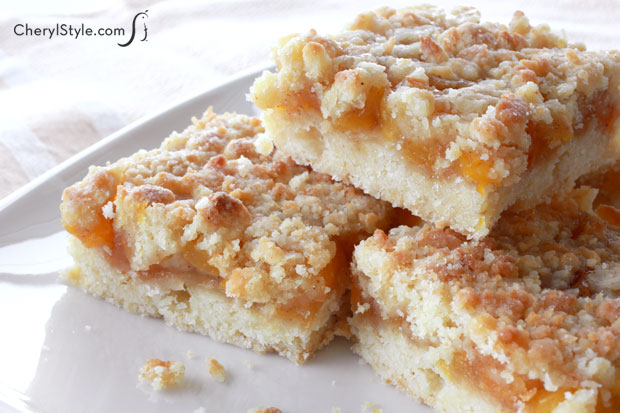 peachy keen bars recipe
Fresh summer peaches are inexpensive and make a sweet, super delicious snack. Try our tart and crumbly peachy keen bars for a delish, seasonal dessert!
Ingredients
Yield: 12 -18 bars
Instructions
Place rack in center of the oven then preheat to 350 degrees. Coat a 9" x 13" cake pan with cooking spray or line with parchment paper then set aside.

In a medium-sized mixing bowl, whisk together ⅓ cup granulated sugar, brown sugar, cornstarch, cinnamon and nutmeg until well combined. Add diced peaches then toss until the peaches are evenly coated and the dry ingredients have dissolved. Stir in lemon or orange juice, lemon zest and salt then set aside. NOTE: When working with fresh fruit, the amount of thickener you need depends on how ripe the fruit is. If you're using super sweet, ripe fruit, increase the cornstarch by 1 or 2 Tbsp.

In a separate large mixing bowl, sift together flour, baking powder and salt. Cut the cold butter into flour mixture using a pastry cutter or fork until the mixture resembles coarse crumbs, then add ¾ cup granulated sugar and stir until combined.

In a small bowl, whisk together beaten egg and vanilla then add to dry ingredients. Mix until well combined.

Transfer 2½ cups of the pastry mixture into the bottom of prepared pan then press into an even layer. Pour peach filling—juices included—over the crust then spread into an even layer.

Crumble remaining pastry mixture evenly on top of the peaches and bake 40–45 minutes—until the top becomes a light golden brown. Remove from oven then allow to cool until the filling is set. Cut bars into desired size then serve warm or at room temperature. Enjoy!
Notes
Frozen peaches also work very well for this recipe! Just defrost the peaches and strain off any excess liquid before adding them to the recipe.
Calories: 353kcal, Carbohydrates: 51g, Protein: 3g, Fat: 15g, Saturated Fat: 9g, Polyunsaturated Fat: 0.1g, Monounsaturated Fat: 0.2g, Cholesterol: 58mg, Sodium: 330mg, Potassium: 210mg, Fiber: 2g, Sugar: 31g