Delicious Potato Leek Kale Soup Vegan Recipe
One of the most sought after soups in the fall and winter is potato leek. This delicious staple of Irish cuisine has a hearty texture that perfectly leverages the power of potato. The touch of kale in this recipe adds a nutritious kick that blends surprisingly well with the overall flavor and texture. This Potato Leek Kale Soup is not only delicious, it's also vegan! It's a great healthy staple to add to your cold-weather soup lineup.
Potatoes are a divisive vegetable but the evidence is mounting that this starchy spud offers a host of health benefits. They've been a valuable part of almost every culture for centuries and provide an excellent source of energy for the brain and muscles.
Leeks are a lesser-known cold weather crop that belongs to the onion and garlic family. They are often described as a milder form of onion and garlic. When combined with potatoes, leeks help bring out the overall flavor of the dish.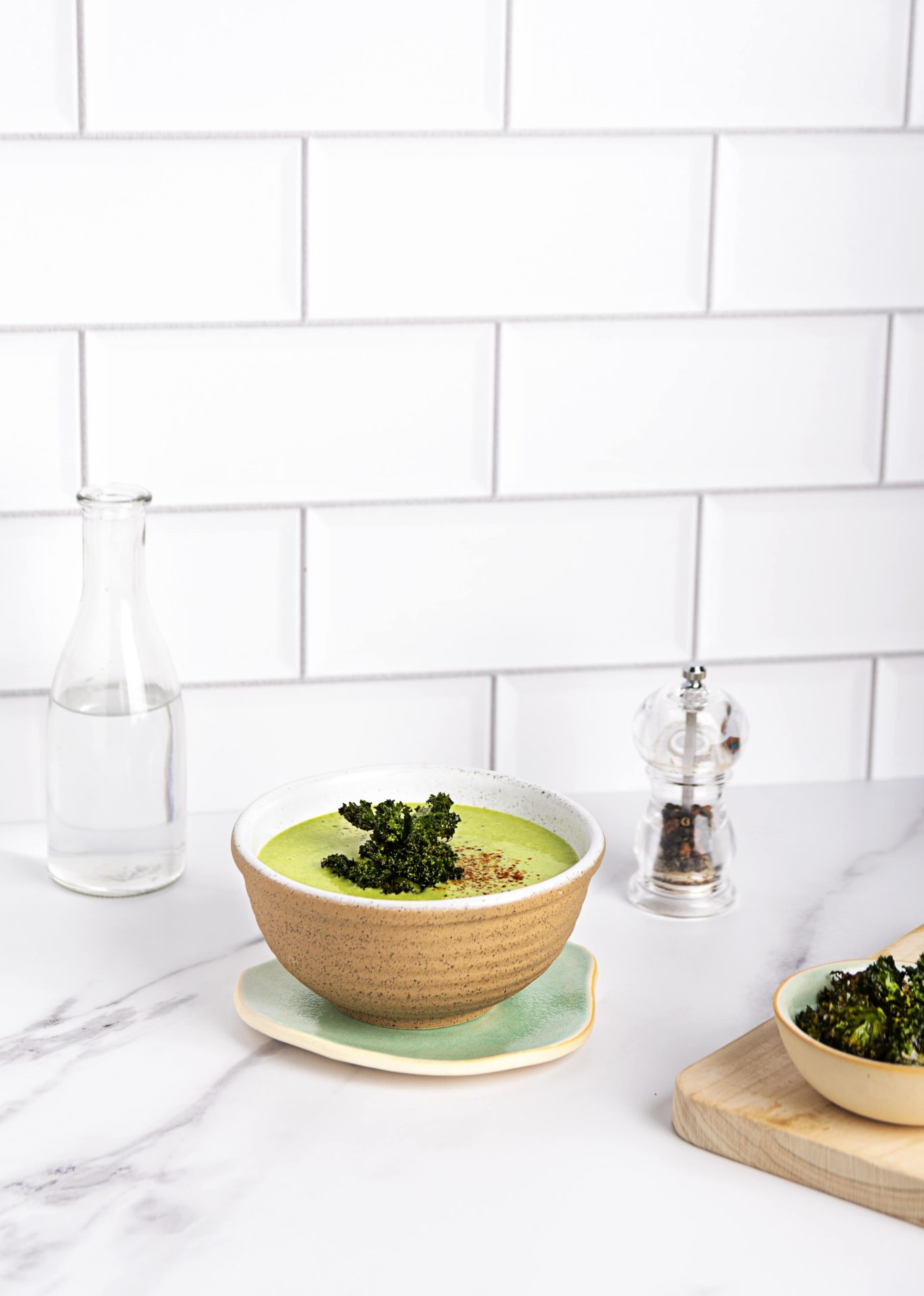 This vegan kale potato and leek soup is very creamy and healthy. It comes with kale chips as toppings, which are a crispy treat that complements the richness and creaminess of the soup. Perfect for any occasion, this heartwarming potato leek kale soup is yet another way of eating a great amount of kale without even noticing (and enjoying it!).
This post may include links to purchase items from our affiliates.
Potato Leek Kale Soup Vegan Recipe Tips:
We highly recommend serving your soup with a sprinkle of chili powder on top, which adds a little extra heat to the mild flavors of the ingredients, and complements the cumin perfectly.
Vegan Potato Leek Kale Soup
This Potato Leek Kale Soup is not only delicious, it's also vegan! It's a great healthy staple to add to your cold-weather soup line-up.
Ingredients
Yield: 4 servings
6 cups torn kale leafs, divided
4 tbsp olive oil, divided
12 oz potatoes
1 cup chopped leeks
1 clove garlic, crushed
5 cups almond or cashew milk, unsweetened
3/4 tsp ground cumin
freshly cracked black pepper
chili powder, (optional)
Equipment
Immersion blender or blender
Instructions
Preheat the oven to 275 F/135 °C.

Dress 1 ½ cups of torn curly kale leafs with 1 tablespoon of olive oil and salt. Use your hands to make sure all the leaves have been coated with olive oil. Place the leaves on a baking sheet covered with parchment. Bake for about 12 minutes, until the kale has become crispy.

Peel and chop the potatoes into small chunks.

Heat the remaining olive oil in a pot at low heat. Add the leeks and crushed garlic clove and sweat for about 5 minutes, until the leeks have become soft and reduced in size.

Add the chopped potatoes and cook for another 5 minutes, until the edges have become translucent. Add the nut milk. Once the liquid begins to boil, simmer for 10 minutes. Then, add the remaining kale. Simmer for 20 minutes.

Carefully, blend or process the soup until you have a creamy consistency. Add the cumin and salt and black pepper per taste.

Serve the soup with kale chips and sprinkle chili powder on top.
Calories: 192kcal, Carbohydrates: 15g, Protein: 2g, Fat: 14g, Saturated Fat: 2g, Polyunsaturated Fat: 2g, Monounsaturated Fat: 10g, Sodium: 6mg, Potassium: 368mg, Fiber: 2g, Sugar: 1g, Vitamin A: 7IU, Vitamin C: 17mg, Calcium: 15mg, Iron: 1mg
Recipe and photos by Abril Macías.