Philly Cheesesteak Stuffed Peppers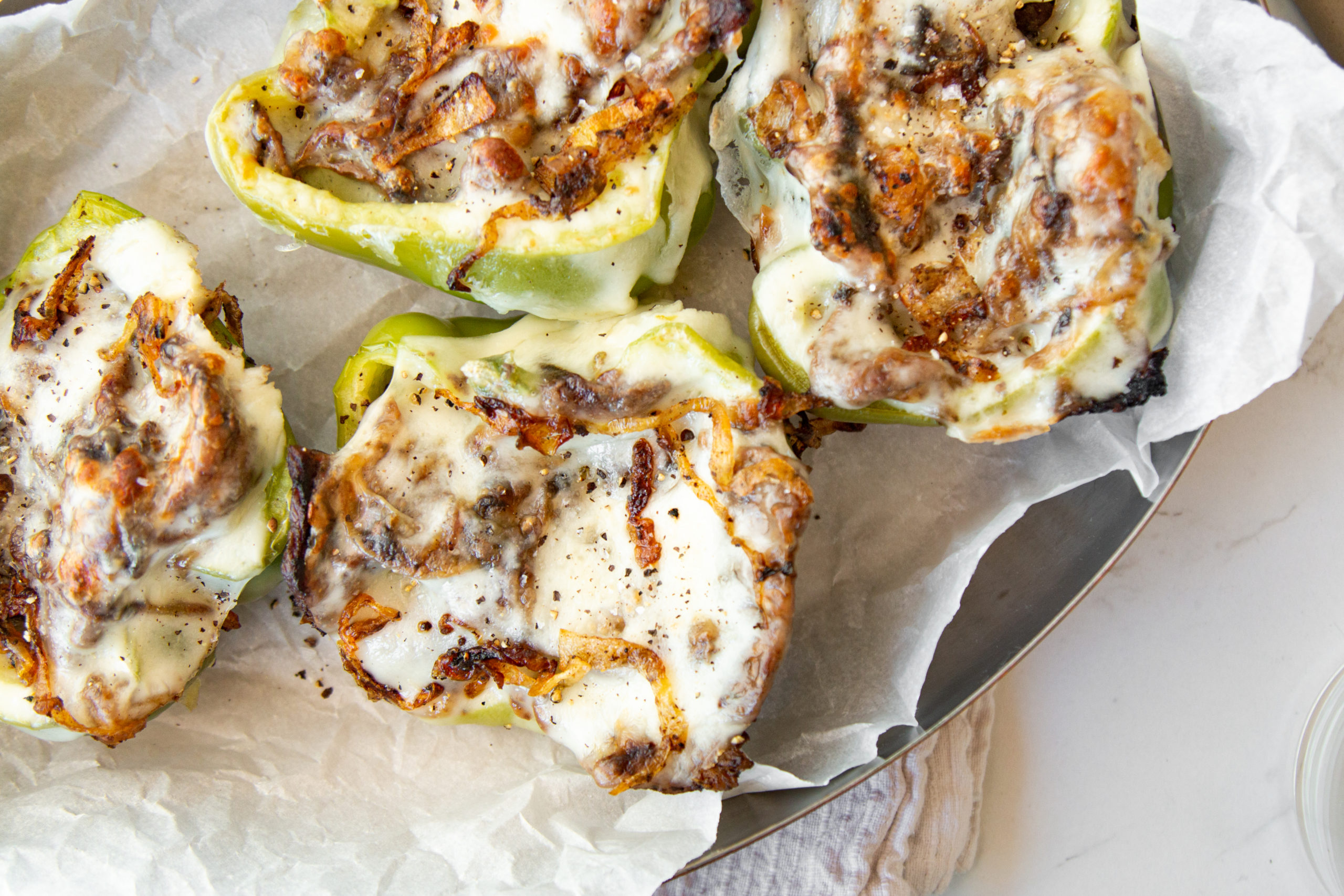 A good Philly Cheesesteak is one of the heartiest and most comforting meals you can enjoy. But when you prepare them traditionally, they're also pretty high in calories, fat, and carbs. We wanted to make a more macro-friendly recipe, so we swapped the hoagie roll for a bell pepper. With these Philly Cheesesteak Stuffed Peppers, you can still enjoy all the flavors of your favorite comfort meal, with a fraction of the calories.
This recipe is packed full of protein, which is essential for maintaining and building muscle. It also keeps you full longer which is key if you want to eat in a calorie deficit and not be hungry all the time.
When you think of high protein recipes you may think of just grilled chicken and steak (which are both delicious), but there's a whole lot more you can enjoy with a bit of creativity. Check out a few of our favorite high protein recipes for weight loss here.
This post may include links to purchase items from our affiliates.
Philly Cheesesteak Stuffed Peppers Recipe Tips:
+ The thinner the slice of beef you use, the faster this recipe will cook. Use a meat thermometer to check the doneness if you want a double check. But, remember it will continue cooking in the oven when you melt the cheese on top!
+ Want to shave some time off this recipe? You could top your pepper with crispy onions instead of caramelized ones to save some effort.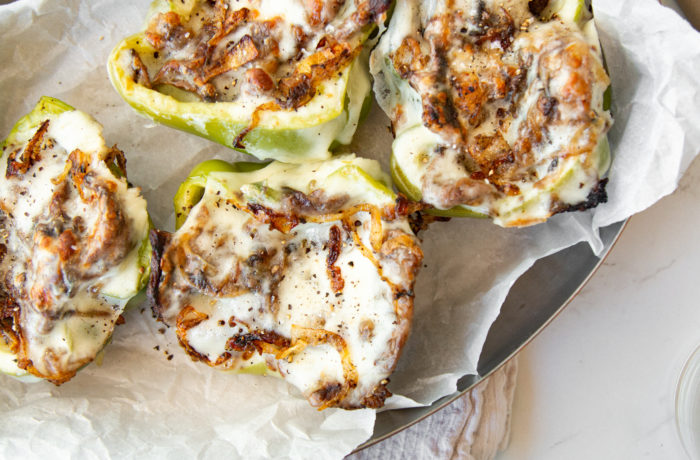 Ingredients
Yield: 4 servings
2 green bell pepper, halved and seeded
3 tbsp extra virgin olive oil, divided
1 sweet onion, thinly sliced
1 lb shaved steak, or round steak sliced thin
1 tsp Italian seasoning
pinch salt and pepper
4 slices low fat provolone cheese
Instructions
Preheat the oven to 350 degrees Fahrenheit. Place the halved bell peppers in a baking dish and transfer to the oven. Bake for about 15-20 minutes, or until just beginning to soften but not yet fork tender. Remove from the oven.

While the peppers are cooking, heat a large skillet over medium heat and add 2 tbsp olive oil. Add the onion and begin to saute, stirring often, for about 5 minutes. Lower the heat to low and continue cooking the onions, stirring occasionally, until nicely browned, soft, and caramelized, about 40 minutes. Remove the onions and set aside.

Increase the heat to medium high and add the remaining 1 tbsp oil if needed. When the oil is hot, add the beef and sprinkle with the Italian seasoning, salt, and pepper. Cook, flipping the shaved beef pieces halfway through, until the beef is cooked through to desired doneness, about 10 minutes.

Place some of the cooked beef in each cooked bell pepper half and top with some of the caramelized onions. Top each bell pepper with a provolone cheese slice.

Transfer to the oven and broil on high for about 2 minutes, until the cheese is melted and beginning to brown. Remove from the oven and serve hot!
Calories: 294kcal, Carbohydrates: 9g, Protein: 27g, Fat: 16g, Saturated Fat: 3g, Polyunsaturated Fat: 1g, Monounsaturated Fat: 10g, Cholesterol: 72mg, Sodium: 80mg, Potassium: 609mg, Fiber: 2g, Sugar: 6g, Vitamin A: 234IU, Vitamin C: 52mg, Calcium: 61mg, Iron: 3mg