High Protein Mac and Cheese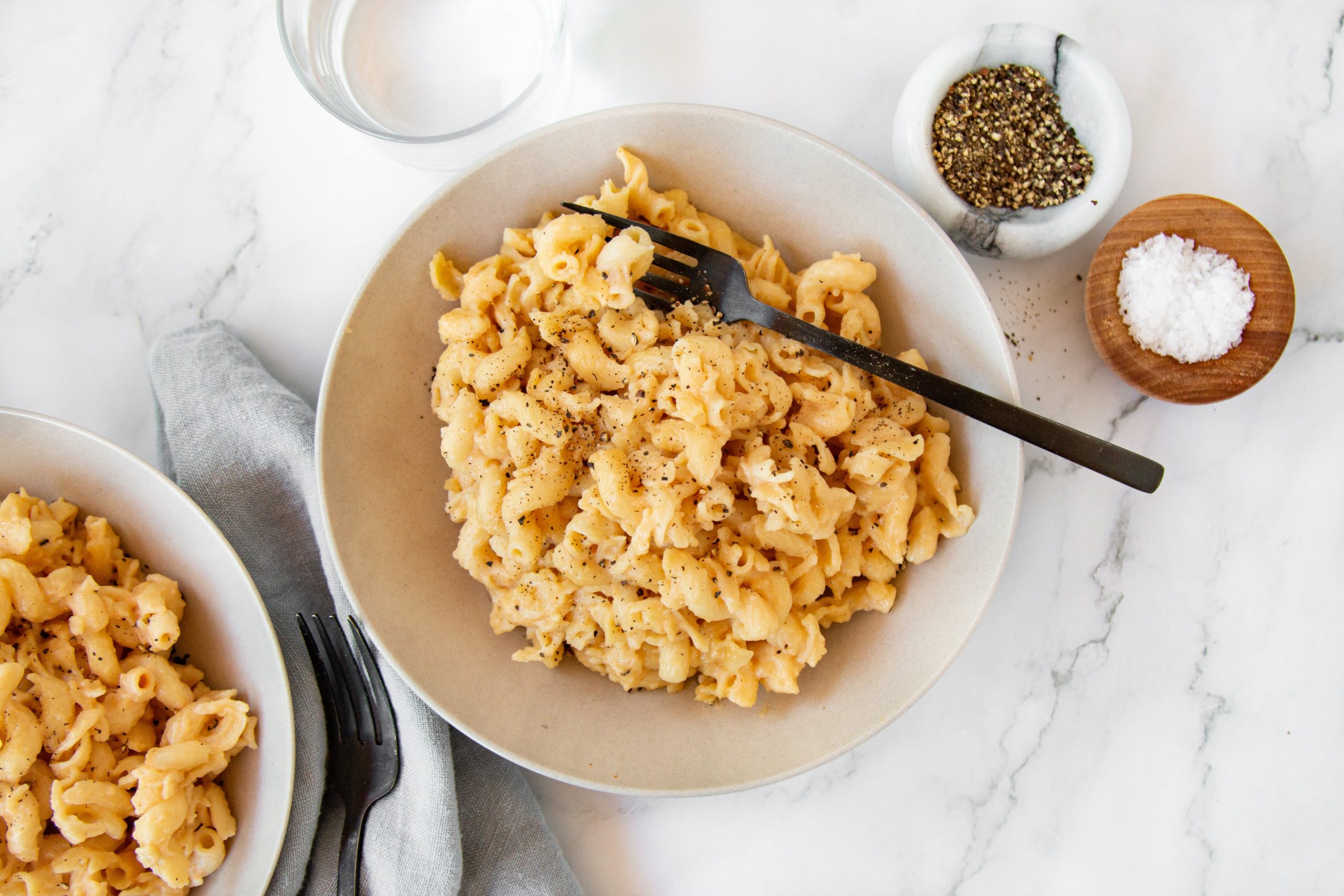 Fact: Mac and cheese is one of the best comfort foods of all time. So it's no surprise that when we started thinking about high protein pasta recipes, finding a way to make mac and cheese fit a macro friendly diet was one of our top priorities. And we absolutely love how this high protein mac and cheese turned out! It's big on flavor, low on fat, and has the perfect texture.
This is a great recipe for meal prep! We do recommend throwing a wet paper towel on top to keep your pasta from drying out and make sure you really mix it all together well. We love adding a little bit of extra garlic powder and pepper after heating it up also.
This post may include links to purchase items from our affiliates.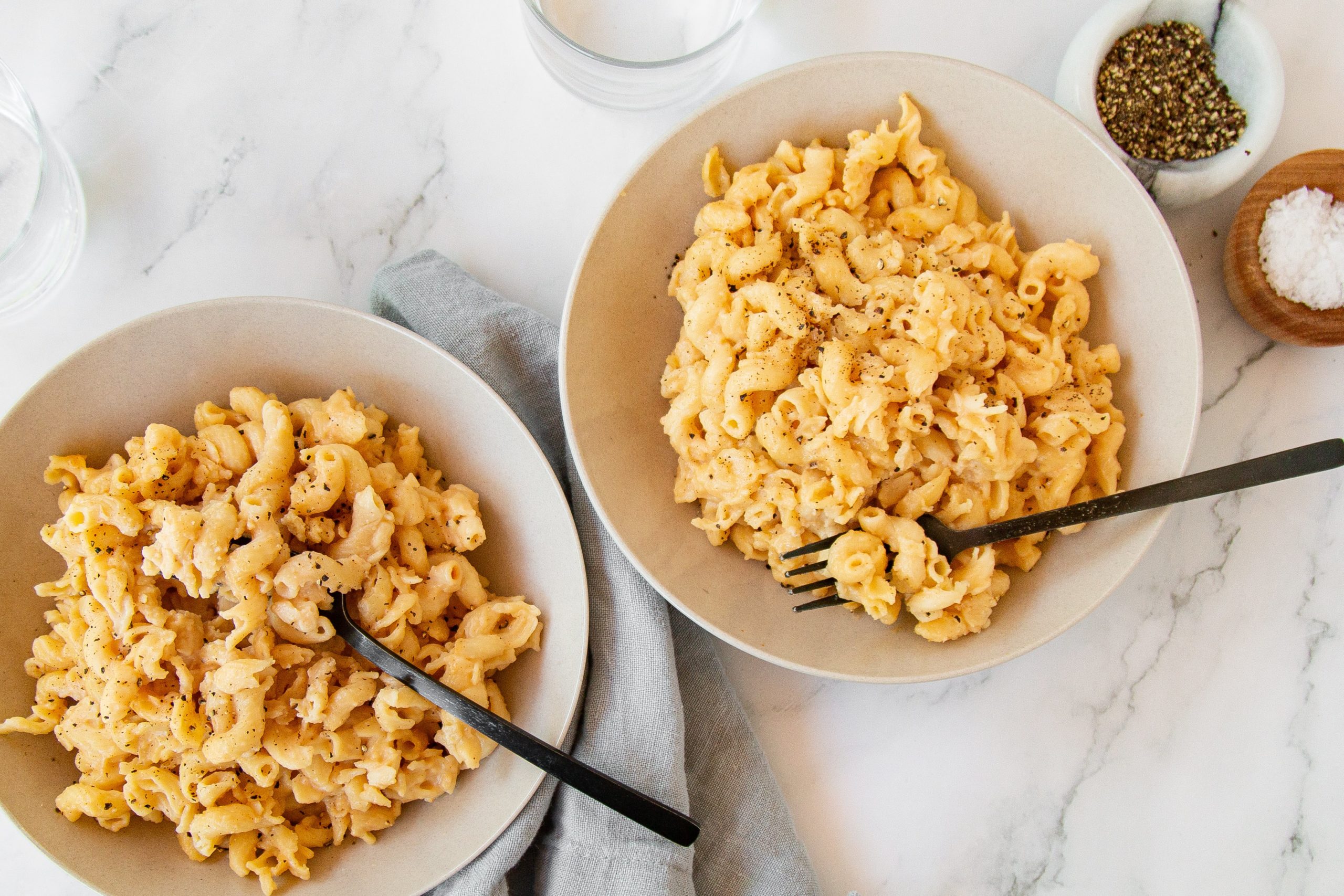 High Protein Mac and Cheese Recipe Tips:
+ You can use any cheese you want in this recipe. Just be aware of the different nutritional values of cheeses and how that will affect the macros if you're tracking that.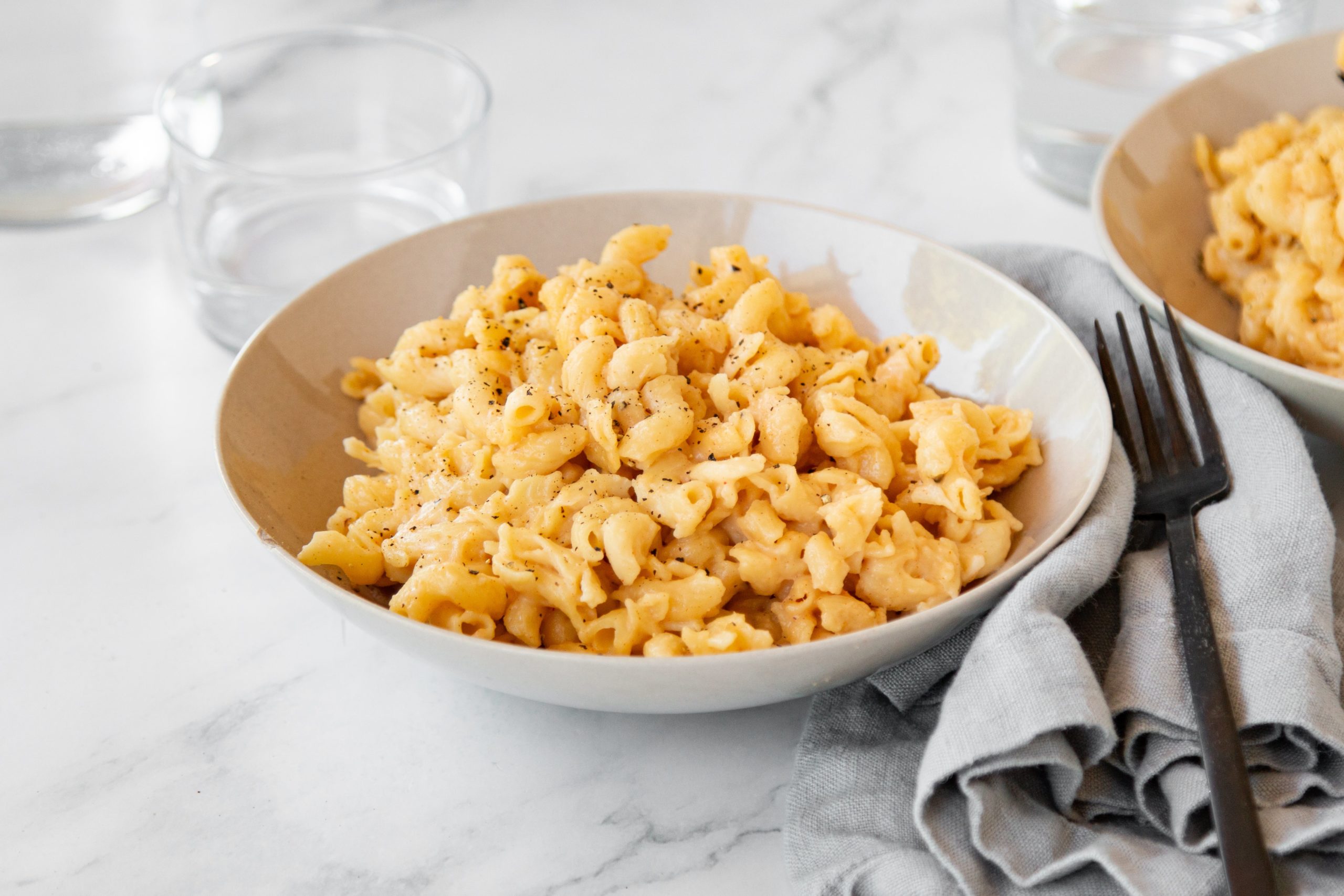 + Throw in a big serving of grilled chicken to add even more protein to this dish. Bacon is delicious too!
+ Turn up the heat and throw in a few red chili flakes if you want.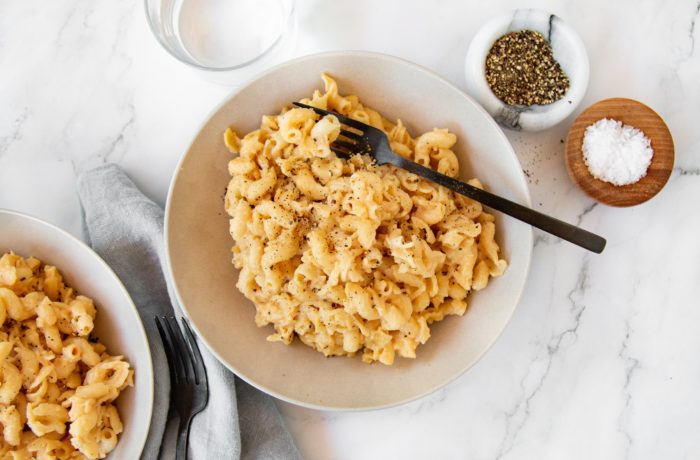 High Protein Mac and Cheese
This high protein mac and cheese recipe is easy and delicious. It's a tasty, macro friendly pasta recipe that's big on flavor and low on fat.
Ingredients
Yield: 4 servings
2 8 oz boxes chickpea pasta, or other high protein pasta alternative
6 oz white cheddar cheese, shredded
2 oz skim mozzarella cheese, shredded
1/2 cup Greek yogurt
1/2 tsp paprika
1 tsp garlic powder
pinch of salt and pepper, to taste
1/2 cup pasta water, reserved
Instructions
Cook pasta according to package directions, until just al dente. Reserve ½ cup of pasta water and drain.

Return the cooked and drained pasta to the pot it was cooked in. Place the pot on the stovetop over medium low heat.

Add the shredded white cheddar, shredded mozzarella, greek yogurt, paprika, garlic powder, salt, pepper, and the reserved pasta water. Stir to combine until the cheese is melted and the ingredients are well combined, about 2 minutes.

Serve hot with cooked chicken breast and bacon bits if desired!
Calories: 605kcal, Carbohydrates: 67g, Protein: 44g, Fat: 24g, Saturated Fat: 10g, Polyunsaturated Fat: 1g, Monounsaturated Fat: 4g, Trans Fat: 0.003g, Cholesterol: 53mg, Sodium: 496mg, Potassium: 90mg, Fiber: 16g, Sugar: 11g, Vitamin A: 515IU, Vitamin C: 1mg, Calcium: 520mg, Iron: 11mg