Million Dollar Spaghetti Squash Pasta
We love this Million Dollar Spaghetti Squash Pasta because it's low in carbs, but high in flavor. It's got all the flavor of a hearty plate of spaghetti, with a fraction of the calories. It's perfect if you're looking for high protein low carb recipes for weight loss.
Many people are intimated by the idea of cooking a spaghetti squash, but we promise it's really not too complicated. In fact, we have a simple video to show you how to prepare spaghetti squash. It does take a bit of time, but the effort is worth it. It's so low in carbs and yet it holds this hearty pasta sauce perfectly!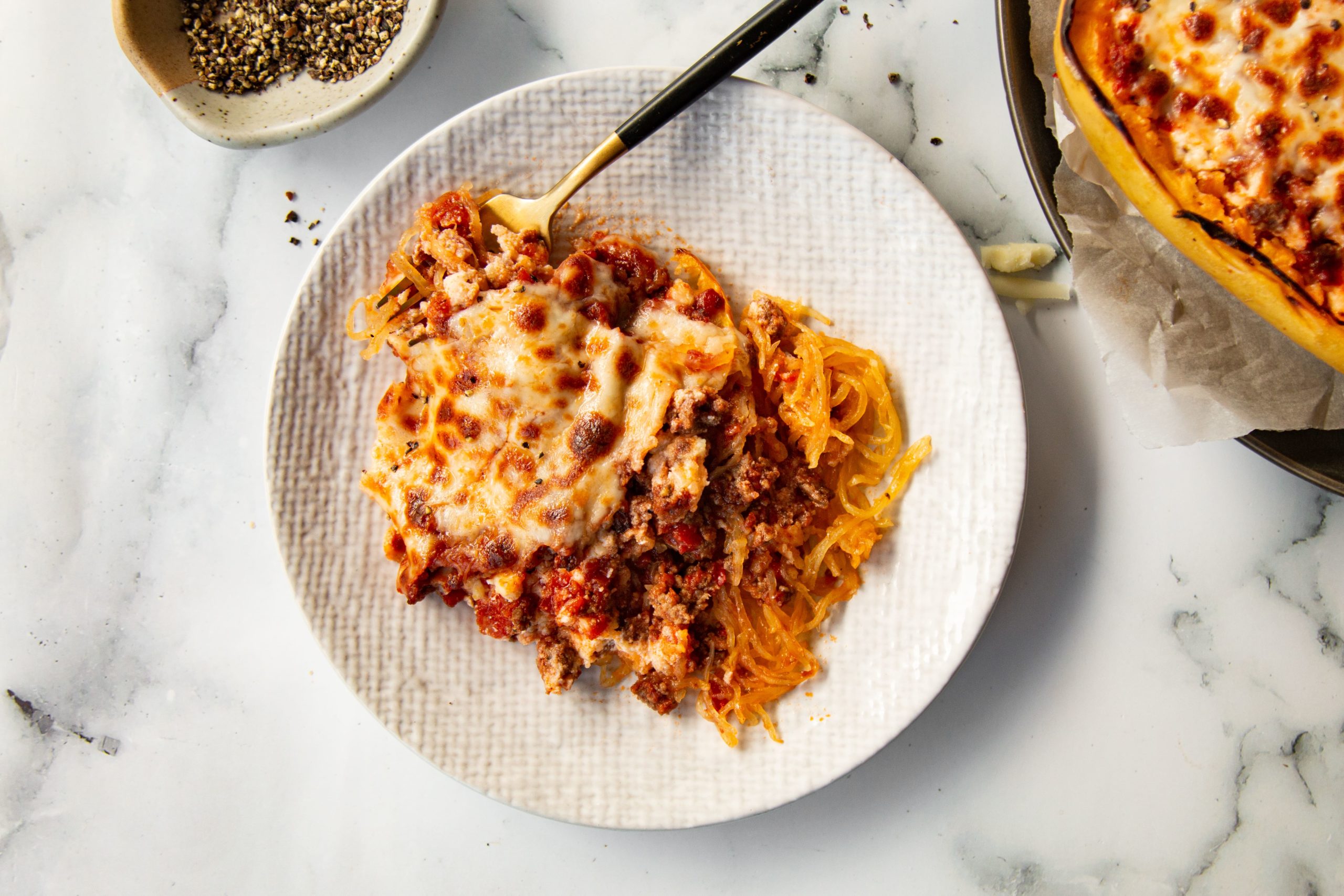 Spaghetti squash is also a great source of vitamins and minerals. So not only are you saving calories compared to traditional pasta, you're also getting a healthy dose of pantothenic acid, fiber, Vitamin C and B6.
This post may include links to purchase items from our affiliates.
Spaghetti Squash Pasta Recipe Tips:
+ This is an awesome recipe for lunch or dinner prep. Let the dish cool a bit and then portion it out into your favorite meal prep containers.
+ Want to spice things up a bit? Throw in some fennel seed or even a few red chili flakes to kick things up a notch.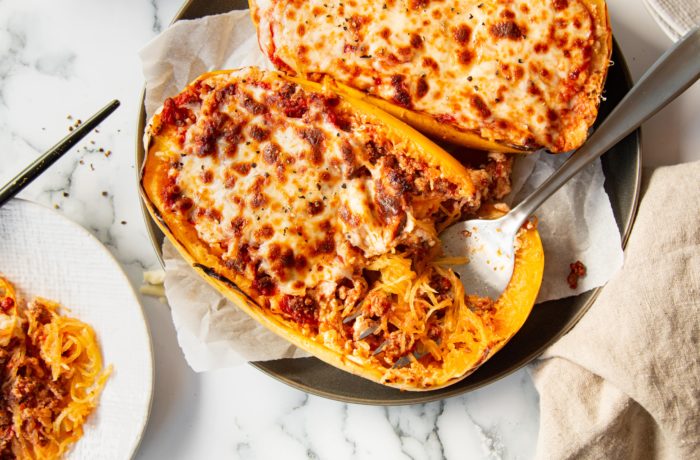 Million Dollar Spaghetti Squash Pasta
We love this Million Dollar Spaghetti Squash Pasta because it's low in carbs, but high in flavor – the perfect macro friendly dinner recipe!
Ingredients
Yield: 4 servings
1 large spaghetti squash
1/2 lb lean ground beef
24 oz marinara sauce
1 cup ricotta cheese
1 1/2 cups shredded mozzarella cheese, divided
1/4 cup grated Parmesan cheese
1 tsp Italian seasoning
salt and pepper
Instructions
Preheat the oven to 400 degrees Fahrenheit. Carefully cut the spaghetti squash in half lengthwise and discard the seeds and membranes

Place the squash halves in a baking dish. Bake squash for 50-60 minutes or until just fork tender. Let cool for 10 minutes, then use a fork to loosen and shred the squash.

Meanwhile, heat a medium skillet over medium heat. Add the beef and cook, stirring and breaking up the beef, until cooked through and browned, about 7-10 minutes. Strain any excess grease from the pan, then add the marinara sauce and simmer for another 2-3 minutes. Taste and season with salt and pepper to taste.

Mix the ricotta with the Italian seasoning, a pinch of salt and pepper, parmesan cheese, and 1 cup shredded mozzarella.

Pour about half of the marinara sauce mixture over the spaghetti squash halves, and use a fork to stir the sauce with the shredded squash. Spread the ricotta mixture on top, then the rest of the marinara sauce. Top with remaining ½ cup mozzarella cheese.

Transfer to the oven and bake for another 10-20 minutes or until the cheese is melted and browned in some spots. Broil on high for 2-3 minutes, if desired for further browning. Remove from the oven and let cool for 5 minutes before serving.
Calories: 454kcal, Carbohydrates: 30g, Protein: 34g, Fat: 24g, Saturated Fat: 13g, Polyunsaturated Fat: 2g, Monounsaturated Fat: 7g, Trans Fat: 0.2g, Cholesterol: 105mg, Sodium: 1309mg, Potassium: 1076mg, Fiber: 6g, Sugar: 13g, Vitamin A: 1646IU, Vitamin C: 17mg, Calcium: 487mg, Iron: 4mg