Dark Chocolate Walnut Cookies
Chocolaty, chewy, and nutty—it's everything we love about our dark chocolate walnut cookies. These babies are prime for dunking in a glass of ice-cold milk. The dough only takes 15 minutes to prepare, so these tasty little morsels are a perfect homemade treat when the clock's ticking.
This post may include links to purchase items from our affiliates.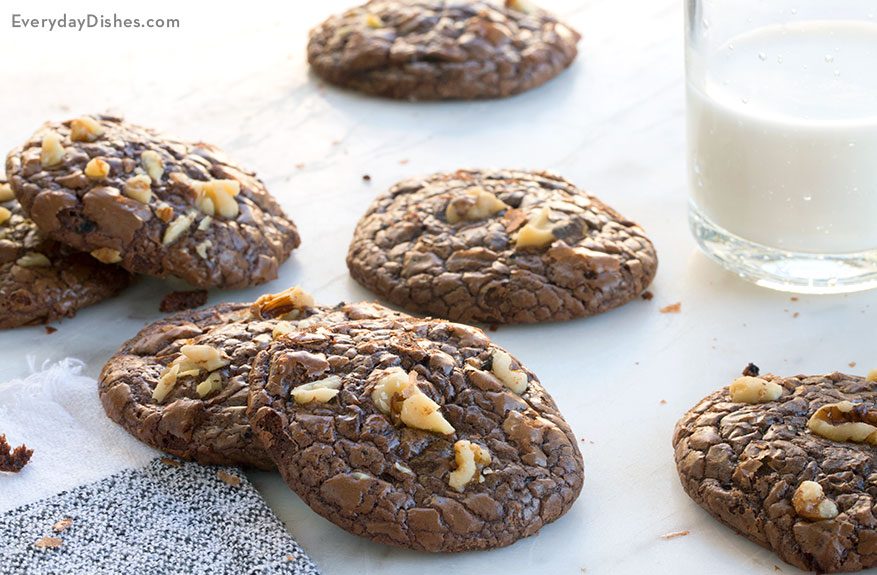 Most cookie dough performs better once chilled, because the flour absorbs the moisture. This results in a fluffier texture during the baking process. In this recipe, however, the dough gets ultra firm, so let the dough set to room temperature until it's soft enough to scoop. If you want a gluten-free cookie, try our gluten-free brownie cookies!
We're pretty sure our dark chocolate walnut cookies will be a family favorite!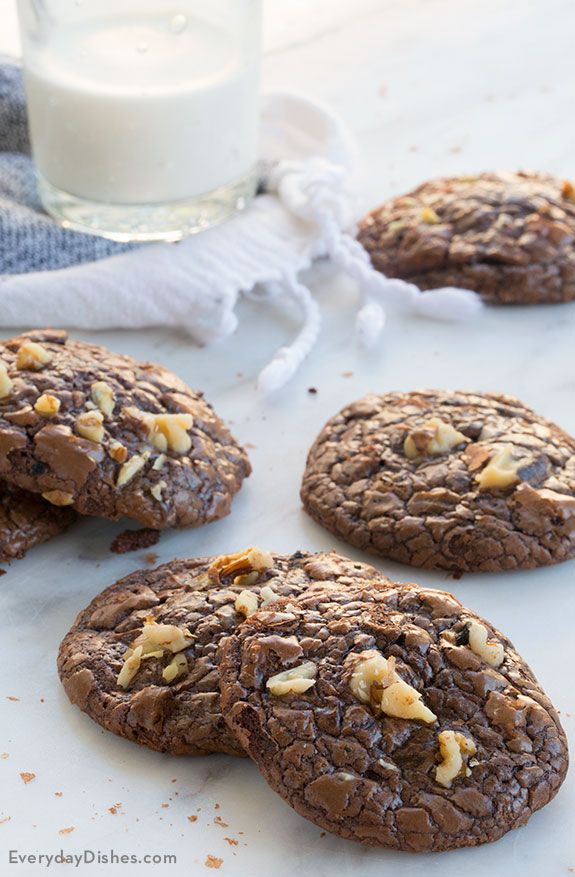 Dark Chocolate Walnut Cookies Recipe Tips:
If you like your cookies chewy, leave them in the oven for 12 minutes. If you're more of a crunchy person, bake them for the full 14.
Freeze balls of dough so you can have a few fresh baked cookies any time you want them!
Dark Chocolate Walnut Cookies
These hearty dark chocolate walnut cookies satisfy your craving for texture and flavor!
Ingredients
Yield: 24 cookies
12 oz bag bittersweet chocolate chips, 60-70% cacao
1/2 cup unsalted butter
3 large eggs
1 cup granulated sugar
2 tsp pure vanilla extract
1/2 tsp baking powder
1/2 tsp salt
2 Tbsp coffee, strong, cooled
1/2 cup all-purpose flour
2 tsp cocoa powder
1 1/2 cups walnuts, chopped
Instructions
Preheat oven to 350 degrees and line two baking sheets with parchment paper. Melt chocolate and butter in a medium saucepan on low heat, stirring constantly until the chocolate is ¾ of the way melted. Remove from heat and let the mixture sit as the chocolate continues to melt. Stir occasionally until smooth, then set aside.

In a stand mixing bowl, beat the eggs, sugar, vanilla, baking powder and salt on high speed 5-6 minutes, until the batter is thick, creamy and completely smooth. The dough will be the consistency of brownie batter. Then reduce speed to low and mix in the melted chocolate and coffee until thoroughly combined.

Fold in flour and cocoa powder just until incorporated, then add the walnuts. Cover the dough and refrigerate for 30 minutes.

Remove dough from the fridge and form cookies by dropping 2 tablespoons of dough onto the parchment paper about 2 inches apart. (Using a small ice cream scoop really helps with this job!)

Bake cookies 12-14 minutes, rotating baking sheets halfway through the bake time. The cookies are done when the center is set but not firm—don't over-bake them! Remove from the oven, slide the parchment onto a wire rack and allow them to cool. As the cookies cool, they'll begin to crack and get chewy-ooey delicious!
Notes
Don't worry if the cookie dough resembles the consistency of brownie batter. It should!
Calories: 258kcal, Carbohydrates: 24g, Protein: 3g, Fat: 18g, Saturated Fat: 6g, Polyunsaturated Fat: 6g, Monounsaturated Fat: 5g, Cholesterol: 37mg, Sodium: 114mg, Potassium: 68mg, Fiber: 2g, Sugar: 20g