Guacamole Deviled Eggs
You'll be the talk of the potluck once you arrive with a tray of our guacamole deviled eggs. This is the kind of recipe where everyone hovers around the buffet table until all the 'little devils' are gone.
Preparing the eggs is easy—just a bit time consuming but totally worth it! If you're looking for a unique dish to serve over a holiday or special occasion, this is it! The ultimate result is a traditional appetizer with a fun, great-tasting twist!
A medium avocado with the veggies and yolks will yield just the right amount of filling—and don't be afraid to fill generously! If you want to kick up the heat, add some diced jalapeño to the guacamole mixture or sprinkle the tops of completed eggs with some red pepper flakes.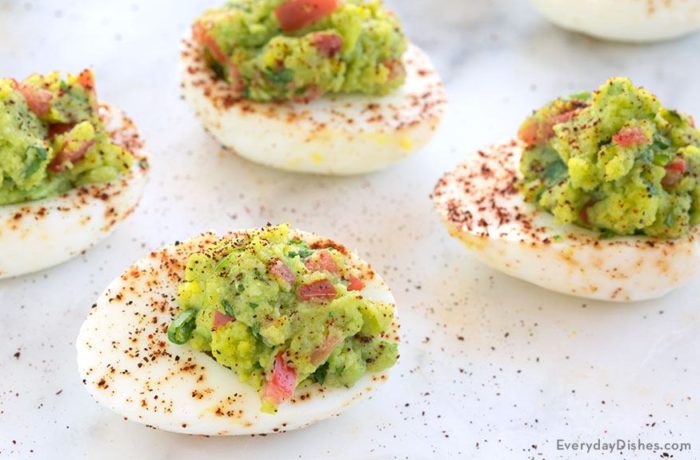 Guacamole Deviled Eggs Recipe
Ingredients
Yield: 16 deviled eggs
8 large eggs
1 medium avocado, pitted
1 Roma tomato, seeded and finely diced
1 Tbsp cilantro, chopped
1 green onion, finely chopped
juice of 1/2 of a lime, plus more to taste
1/2 tsp salt
1/4 tsp pepper
chili powder, for sprinkling
Instructions
Place eggs in a saucepan then add enough cold water to cover eggs by at least 1". Place pan over high heat and bring water to a boil. Remove from heat, cover, then allow eggs to sit in the hot water for exactly 12 minutes.

Drain hot water from eggs then run under cold water until completely cooled. Peel eggs then slice in half. Place egg whites on a plate then transfer yolks to a medium-sized mixing bowl.

Mash yolks with a fork until finely ground then add avocado and mash together with yolks until it reaches a smooth consistency with just a few chunks of avocado for texture.

Add diced tomato, chopped cilantro and sliced green onion then stir gently to combine. Squeeze in lime juice, then season with salt and pepper. Mix well and adjust seasoning if necessary with additional salt, pepper or lime juice.

Spoon about 1 Tbsp of filling into each egg white and sprinkle tops lightly with chili powder. Refrigerate until ready to serve and enjoy.
Notes
If you use our method to hard-boil the eggs, you will have perfectly-cooked exteriors with no gray rings around the yolk!
Calories: 58kcal, Carbohydrates: 2g, Protein: 3g, Fat: 4g, Saturated Fat: 1g, Polyunsaturated Fat: 0.4g, Monounsaturated Fat: 1g, Cholesterol: 106mg, Sodium: 111mg, Potassium: 96mg, Fiber: 1g, Sugar: 1g