Roasted Artichoke Hearts
Using fresh artichokes can be expensive, time-consuming and labor-intensive, so we used a bag of frozen artichoke hearts in an effort to get right to the good stuff! Having eliminated all the grunt work from cooking with fresh 'chokes,' you're left with a recipe that only takes five minutes to prepare and tastes delicious.
This recipe is all about the seasoning, and we're willing to bet you probably have most of the ingredients at home already! With a little olive oil, minced garlic, sea salt, pepper and fresh lemon, this recipe will deliver robust, satisfying flavor.
Our roasted artichoke hearts taste great dipped in melted butter, mayo, ranch or Italian dressing—and we want to hear all about how you like to dip yours! Join the conversation on Facebook using #EverydayDishes.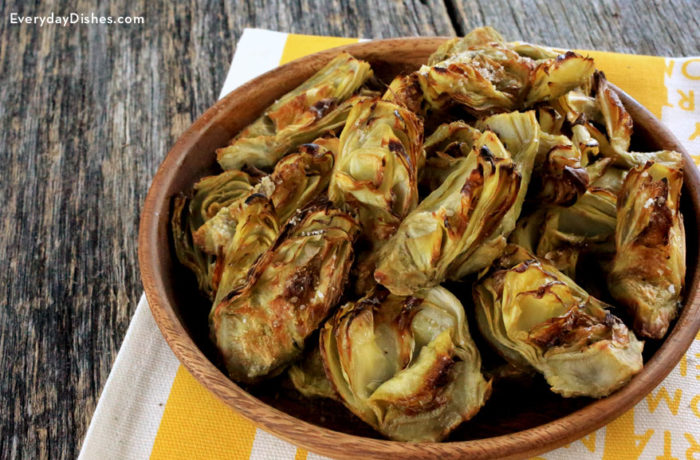 Roasted Artichoke Hearts Recipe
They're fast, easy, tasty, and perfect for dipping! Pair this roasted artichoke hearts recipe with your favorite sauce then serve as an appetizer or snack!
Ingredients
Yield: 8 servings
Instructions
Preheat oven to 425 degrees. Drain or defrost artichoke hearts then place in a single layer on top of several paper towels. Cover with a few more sheets of paper towel then press firmly enough to remove excess water without crushing them.

In a medium-sized mixing bowl, stir together olive oil, garlic, salt and pepper. Add artichoke hearts and toss to coat evenly. Transfer to a large baking sheet.

Roast 15–18 minutes, tossing halfway through. Remove from oven, sprinkle with additional sea salt to taste and a nice squeeze of fresh lemon. Serve by themselves or with your favorite condiment for dipping.
Notes
Either canned or frozen artichokes will do the job, but we tend to find that the frozen variety are less expensive!
Calories: 101kcal, Carbohydrates: 2g, Protein: 1g, Fat: 10g, Saturated Fat: 3g, Polyunsaturated Fat: 1g, Monounsaturated Fat: 3g, Sodium: 276mg, Potassium: 4mg, Fiber: 1g, Sugar: 0.03g