One Pot Lazy Stuffed Peppers
You might not be a chef—but you still want to put dinner on the table and get a high five from the kids. Check all the boxes with this super delicious lazy stuffed peppers recipe!
This dish is way easier than making stuffed bell peppers, and you only have to dirty up one pot to make it! You don't even need a fancy skillet with a lid—just find a big pot and cover with heavy-duty aluminum foil. Bada bing!
There's lots of yummy rice, gooey cheese, rock star seasonings and extra-lean ground beef. There's no doubt the whole tribe will be full once meal time is over!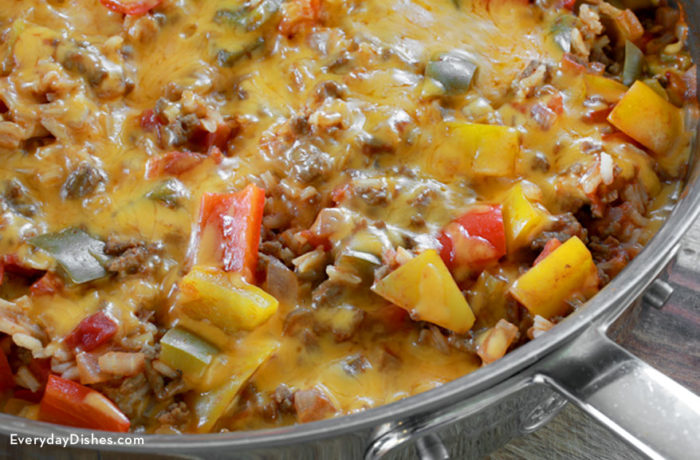 One Pot Lazy Stuffed Peppers Recipe
Make a one pot wonder that'll feed the entire tribe! This lazy stuffed peppers recipe is plate-lickin' good and will satisfy your hunger big time!
Ingredients
Yield: 6 -8 servings
2 Tbsp olive oil
1 lb extra-lean ground beef
1 medium yellow onion, finely diced
3 bell peppers, seeded and diced large
2 cloves garlic, minced
14.5 oz can tomatoes, petite, diced, with juices
14.5 oz can beef broth, or chicken broth
8 oz can tomato sauce
2 tsp beef bouillon, or chicken bouillon
2 tsp Worcestershire sauce
1 tsp Italian seasoning, or oregano
1 cup white long grain rice, uncooked
1 1/2 cups cheddar cheese, shredded
Instructions
Place a large skillet with a tight fitting lid over medium-high heat then add olive oil. When the oil is hot, add ground beef and cook 5–7 minutes, breaking into small pieces as it browns.

Add onions, bell peppers and garlic in with beef; stir to combine. Once the peppers have started to soften and the onions are translucent, carefully drain excess grease from skillet.

Return to stove reducing heat to medium. Stir in diced tomatoes with juice, broth, tomato sauce, bouillon, Worcestershire sauce and Italian seasoning.

Bring to a boil then stir in uncooked rice. Return to a boil, reduce heat to low, cover and simmer for 25 minutes, or until rice is tender.

Remove skillet from heat, stir lightly to fluff up the rice, sprinkle with shredded cheddar cheese and replace the lid. Allow the casserole to rest, covered, for about 10 minutes before serving. Enjoy!
Notes
Bell peppers can be pricey, so look for them on sale. If you don't find a good deal, just buy the green ones. They're half the price of the yellows, reds and oranges!
Calories: 479kcal, Carbohydrates: 37g, Protein: 30g, Fat: 23g, Saturated Fat: 9g, Polyunsaturated Fat: 1g, Monounsaturated Fat: 10g, Cholesterol: 84mg, Sodium: 1105mg, Potassium: 781mg, Fiber: 3g, Sugar: 7g