Spinach Gratin
Our spinach gratin recipe is how spinach was meant to be consumed—with lots of cheese! We perfected this recipe so it's not 'soupy' like au gratin dishes you may have tasted in the past. In fact, we added just enough sauce to bind and flavor the spinach and used a nice, high-quality Monterey Jack or Gruyere cheese.
Don't be fooled by the cheese, however, because our recipe contains nearly three pounds of leafy greens, making it a dense and hearty side dish. Sometimes our recipes are picked through but not totally consumed—but this time, there wasn't a sliver of spinach or even a singlet of melted cheese left stuck to the pan. It's that good.
Our spinach gratin is perfect for every day dinners, a welcome holiday side dish and perfect for company. It's a recipe that pairs well with just about anything, and while it's listed under 'sides,' we'd be more than happy to eat this as a main course!
This post may include links to purchase items from our affiliates.
Spinach Gratin Recipe Tips:
Be sure to squeeze as much liquid as possible from the frozen spinach—the successful outcome of the dish depends on removing as much water as possible! A cheesecloth makes this super easy (paper towels can tend to disintegrate with all the extra moisture.)

You can also use fresh spinach in this recipe, but you'll need quite a bit. You'll want to substitute 1 – 1.5lbs of fresh spinach for every 10oz bag of frozen – so 5 – 7lbs of fresh spinach for this recipe. Cook it down in a pan and then add it in at the same spot as the frozen spinach in the recipe.

Not a fan of the cheeses we use? Swap in the melty ones that you prefer.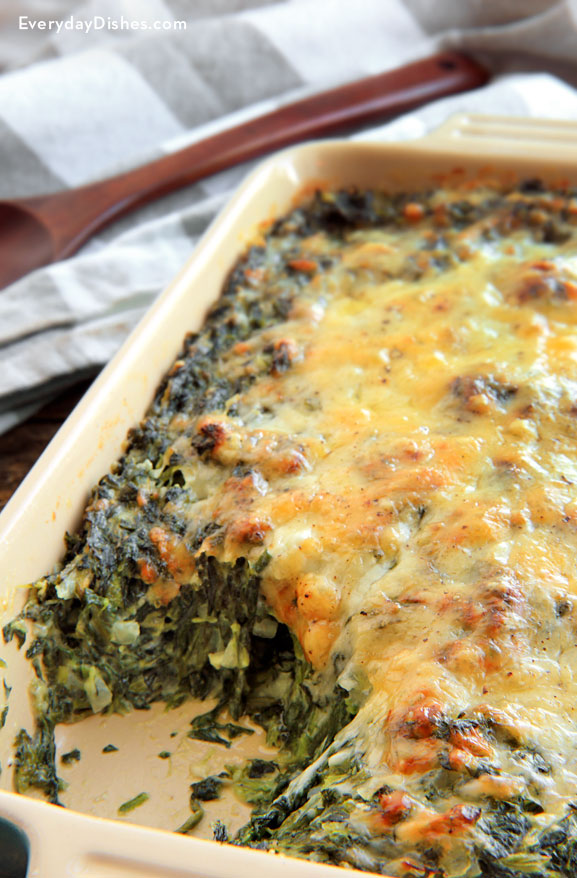 Spinach Gratin Recipe
One of our most popular recipe – you will go nuts for our spinach gratin. It's super easy, packed with spinach and tastes amazing!
Ingredients
Yield: 8 -10 servings
Instructions
Preheat oven to 400 degrees, lightly coat a 2-qt casserole dish with cooking spray and set aside. Place a large skillet over medium heat then melt butter. Add onions and cook 3–4 minutes until translucent. Add garlic then cook 1 additional minute.

Add flour then cook, stirring constantly for 1 additional minute. Add milk, salt and nutmeg then stir until combined. Bring liquid to a bubble then reduce heat to low and simmer for 10 minutes, stirring frequently to prevent scorching.

Squeeze as much liquid as possible from the spinach—the successful outcome of the dish depends on removing as much water as possible! Add spinach and Parmesan cheese to sauce and stir until completely combined. Taste and season with additional salt and pepper if necessary.

Transfer to prepared baking dish and sprinkle with Monterey Jack or Gruyere cheese. Bake for 28–30 minutes or until cheese becomes golden and dish is hot and bubbly.
Notes
Don't be shy when it comes time to remove the liquid from the spinach. The success of this dish depends on it!
Calories: 193kcal, Carbohydrates: 14g, Protein: 12g, Fat: 11g, Saturated Fat: 6g, Polyunsaturated Fat: 1g, Monounsaturated Fat: 2g, Cholesterol: 29mg, Sodium: 572mg, Potassium: 1135mg, Fiber: 4g, Sugar: 5g