Brown Sugar Caramel Recipe – How to Make Caramel with Brown Sugar
Caramel sauce is a delicious and versatile component for many desserts that is great to have at hand. It can be drizzled over ice cream, cakes, fruit, souffles, waffles, french toast, pancakes, and many more. Usually made with granulated or caster sugar, this version has a deeper stronger taste because the brown sugar is less processed. To avoid crystallization in the caramel, we add cream of tartar, which stabilizes the sauce due to acid and prevents crystals from building up again. Our Brown Sugar Caramel Recipe is full of flavor and perfect for adding a touch of sweetness to all your favorite desserts.
Good caramel sauce is all about consistency and texture. The longer you let your caramel boil, the thicker the sauce will end up being when it cools. By following the instructions for how to make caramel with brown sugar carefully, you can get the perfect viscosity for drizzling your desserts.
This post may include links to purchase items from our affiliates.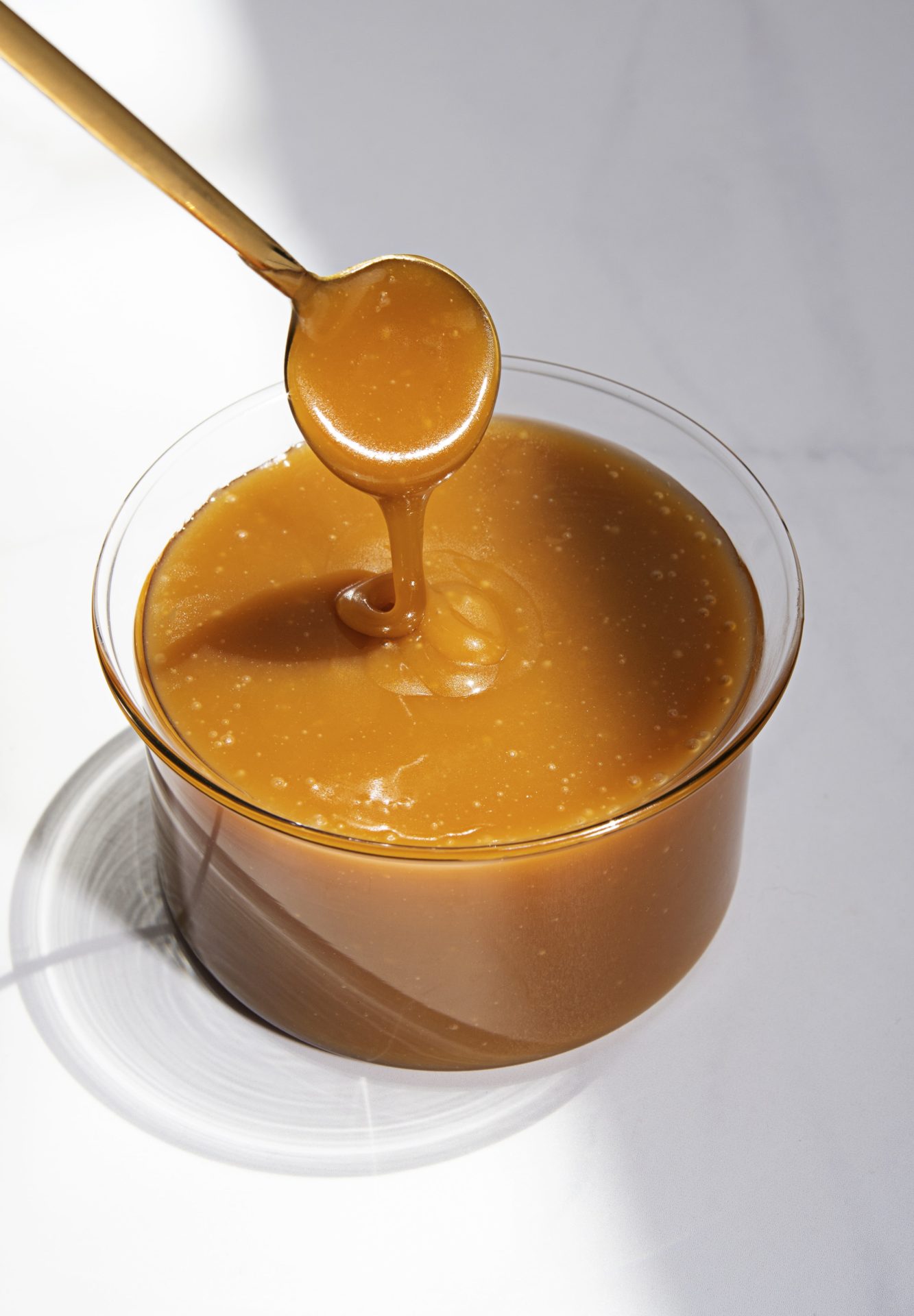 Brown Sugar Caramel Sauce Recipe Tips
To store your caramel sauce, pour it into an airtight glass jar and put it in the refrigerator. It will stay good for a full month. If you need the caramel to stay fresh even longer you can freeze it and get three times the life span. The colder the caramel is, the harder the consistency will be but you can always reheat the sauce in the microwave or on the stove to bring it back to its original form.
If you like your caramel extra salty, add an extra ½ teaspoon of salt to yours.
How to make caramel with brown sugar
Brown Sugar Caramel Sauce
Our Brown Sugar Caramel Recipe is full of flavor and perfect for adding a touch of sweetness to all your favorite desserts.
Ingredients
Yield: 1.5 cups
Instructions
Dissolve the cream of tartar in the water.

In a medium saucepan over medium-low heat add the light brown sugar and the water with cream of tartar. Mix with a spoon until the sugar begins to boil. Cook undisturbed for 8-10 minutes until the sugar turns deep amber and wisps of smoke rise from the surface.

Meanwhile wash over the sides of the pan with a brush to avoid sugar crystals from sticking. Remove caramel from the stove and stir in the butter. Gradually add the cream, vanilla and salt. Return to heat and allow to cook until the mix boils again, 4-5 minutes.

Sieve the caramel through a fine mesh sieve into your preferred container. This will separate any undissolved and unnoticed sugar crystals from the sauce. Allow to cool completely and enjoy.
Calories: 1657kcal, Carbohydrates: 220g, Protein: 4g, Fat: 89g, Saturated Fat: 37g, Polyunsaturated Fat: 14g, Monounsaturated Fat: 33g, Cholesterol: 134mg, Sodium: 2182mg, Potassium: 475mg, Sugar: 217g, Vitamin A: 3777IU, Vitamin C: 1mg, Calcium: 281mg, Iron: 2mg
Recipe and photos by Abril Macías.